cars: 1984 Civic 1500S with the Teddy Bear wheels
I saw this in my neighborhood
The 1984 Honda Civic 1500S in the beautiful gray two-tone. Almost as cherry as
the one I owned
.
Check out the wheels! I remember seeing these "teddy bear" wheels in car magazines, I thought they were by Koei, but these are by Ronal.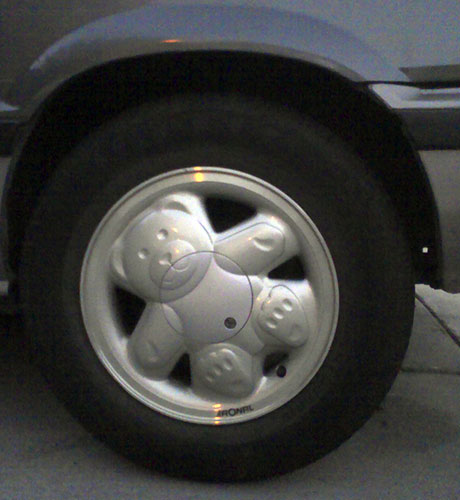 Note the wheel lock in the belly button.
I've been meaning to update my
Civic page
with more information about that incomparable design.
Car Styling magazine
was kind enough to photocopy the pages about the entire third-generation "Civic Renaissance" design program from issue 44 for me. It was a global tour de force, a single program delivered this fantastic hatchback, the Civic sedan, the CRX pocket-sized sport coupe, the innovative Civic "Space" Shuttle all-wheel drive (much better than a fat tall SUV), and the Ballade variants for the Japanese domestic market. Wow.
Douglas Halbert of Honda R&D Americas contacted me and commented
Tony Ikeda, Ed Watts, Truman Pollard and myself were the designers working on the project. All my designs were of the long-roof concept and we were in competition with Hiroshi Zaima and the HGW staff in Japan.
Hmm, the design came out in
1984
. High point of Western civilization indeed!